Who is the Bicycle Repairman?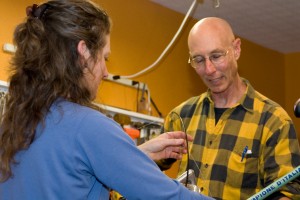 David Kuch is a professional mechanic with over 30 years of experience. He is a life-long cyclist who has owned a bike shop and has been a team race bike mechanic. David has raced, toured, and commuted on bicycles, and is committed to two-wheeled transportation. He has taught effective cycling in Portland and in Colorado, and was the bicycle/pedestrian safety education for the City of Boulder, Colorado.
David is patient, funny, and knows everything about bicycles – just the guy you want to tutor you!